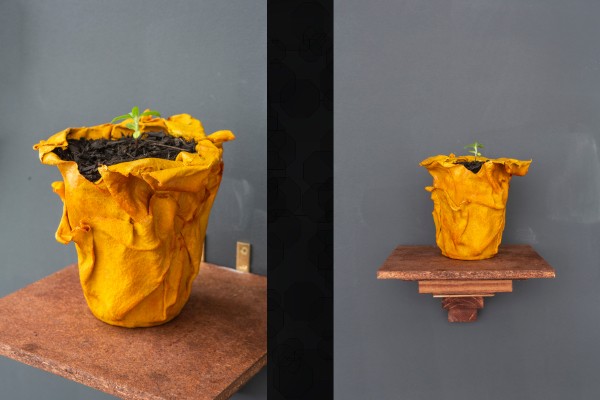 pot to be planted where the earth needs healing (turmeric)
Recycled paper pulp, turmeric, beeswax, soil, mulch, sunflower sprout, pyramid shelf made from reclaimed wood
8" H x 8" D
2021
$100 (or donation of any size to McKinley Park Mutual Aid). Can only be sold within a 50 mile radius of Chicago. This item will be hand delivered by the artist.
Flanking trunk are four didactically titled pots, made from recycled paper pulp and nutrient-rich, natural dyes. Inside each pot grows a young dwarf sunflower sprout. In art history, sunflowers are iconic, particularly those painted by Vincent van Gogh, but they are also healers who extract and process toxic elements from soil. These works are intended to be planted in the ground, where the pots can decompose and the sunflowers can stretch to the sky while cleansing the earth that holds them in place.
Made with Anders Zanichkowsky at Spudnik Press Cooperative.